Citizens of 20 countries gave messages from Alanya: Healthy Tourism in Turkey, there are Safety Cities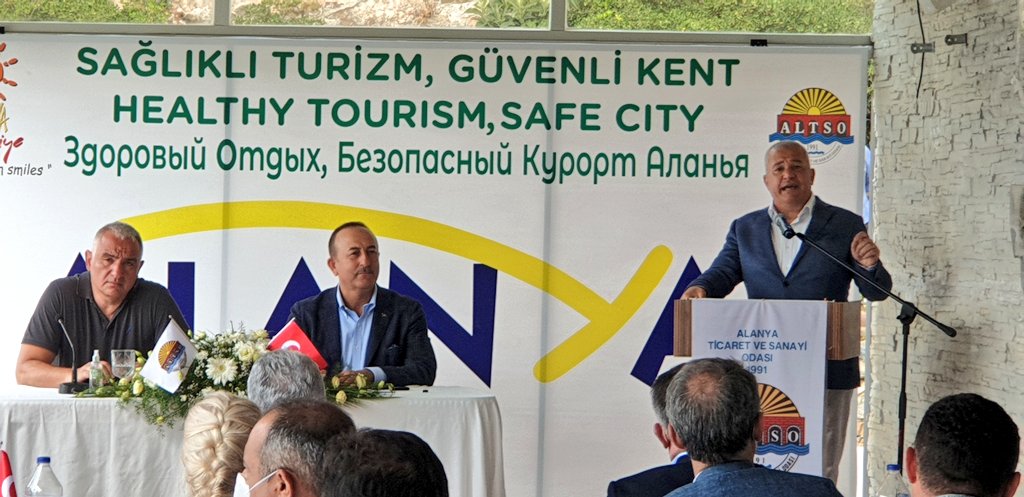 Turkish Riviera Alanya hosted an important meeting attended by two Ministers from the Turkish Government. Turkish Foreign Minister Mevlüt Çavuşoğlu and Turkish Tourism Minister Mehmet Nuri Ersoy invited tourists to the country.
A large number of resident foreigners living in Alanya attended the organization held at İskele Harbor Restaurant under the leadership of ALANYA Chamber of Commerce and Industry (ALTSO).
Turkish, English and Russian "Healthy Tourism, Safety City" banners were opened in the restaurant where the meeting took place and the boats in the sea.
24 broad TV channels broadcast live the giant meeting of two ministers. At the meeting all over the world to Turkey and Alanya it was transferred to a safe and healthy tourism that message made.
As of the end of 2019, 6,590 people from 80 countries bought real estate in Alanya. This figure was 45 thousand 756 people from 102 countries. In addition, as of 2019, a total of 27,819 foreigners received residence permits from 48 countries. However, there are nearly a thousand foreign capital companies registered in the chamber of commerce. Stating that the pandemic process has been successfully carried out in Alanya, Alanya Mayor Adem M. Yücel stated that the works continue for Alanya's people to comply with the rules and to organize the city according to the rules.
Antalya Governor Ersin Yazıcı, emphasizing what will be done for the purpose of hosting guests safely, "We know that all sectors intersect with tourism and we act with this awareness. All roads go to tourism. We are talking about Alanya ready for tourism and we are proud of it. All public institutions We are among the countries that best manage this process with the devoted work of our company and its organizations. The situation is the same for Antalya. We have to continue this way without losing it. I promise that we can host guests safely in every point of Antalya from Gazipaşa to Kaş. I would like to announce that it will not be here.
"We are normally happy to hold the first meeting in Alanya. Thanks to the measures we have taken, we are here to explain how safe the region is for tourism", said Turkish Foreign Minister Mevlüt Çavuşoğlu.
Stating that the pandemic shook the world, Minister Çavuşoğlu continued his words as follows:
"In this period, the countries that took precautions well and kept their economy alive with precautions will be the forefront in the future. We have seen that we are one of the most successful countries in the fight against corona under the leadership of our President. On the one hand, what we are going to do after the corona, we are thinking about it very much. We received the opinions of experts from every continent and from every country. We will deal with this process with the least damage. There is something that everyone agrees with, there will be regionalization. we support the country. had requested medical help us more than 2 in 3 countries around the world. we're running treatment brought us some countries, countries of the managers. we have sent medical supplies to 137 countries. we neglect our kindred. we carried out the largest evacuation operation in the history of the Republic of Turkey. 9 from 130 countries They have brought more than a thousand of our citizens in Turkey, 90 countries have asked to evacuate their citizens in Turkey. We also evacuated 230 thousand foreigners. This year, we brought 159 citizens from 34 countries to our country by air ambulance. Human health and safety is very important. We work according to these criteria. When we revealed that these criteria be unfair to Turkey, because some countries have good political relations, he made gestures we see that though they are not good figures in the country. If you ignore the conditions of doing that which is good in Turkey, naturally also press your own, your citizens in revolt. I want to keep Germany separate from this. We will get the results of our contacts in Germany. We will also work for the revival of tourism. We had crises in the past. We've survived it all, and we'll get through it. "
Turkish Republic while Tourism Minister Mehmet Nuri Ersoy, "We have received very prompt and detailed measures together with the interest in Turkey's first case on March 11. We have received positive results from the investments made in pandemic period in time. 1 began to turn the new normal as of June Turkey. Normalization process which is the world's other countries as we also increased the number of cases. he began to explain the total and daily incidents of on the basis of Ministry of Health of the lowest cases of Antalya in Turkey's coastal cities. 523 total cases, while day case 4-5. at the moment when you look at Europe for the first 3 enters, I think. Antalya, completely under control, he did his preparation for the corona new era. Turkey in the middle of success. We have serious long way shoulder to shoulder with the Ministry of Foreign Affairs. the more guests that country of ambassador to Turkey in Antalya've guest Ambassadors and foreign press members had the opportunity to examine the measures we took, we developed the criteria. and tourism transport vehicles are certified by certification companies that meet 156 important criteria. The first and most extensive certification system in Turkey in Europe. The fact that the tourism companies that please me the most voluntarily apply to this. This certification system is very important for Turkey. We plan to continue this program by changing certain criteria after the pandemic. We do everything that needs to be done many times. We implement the measures requested from us. If they wanted one, we're doing two. Gradually good news started to come. I believe that we will receive good news from the EU as soon as possible. "
Attending the meeting, representatives of foreign missions from 20 countries and Alanya in Turkey they did emphasize that they are healthy and safe.