GJC Foreign Media Representatives talked about pandemic process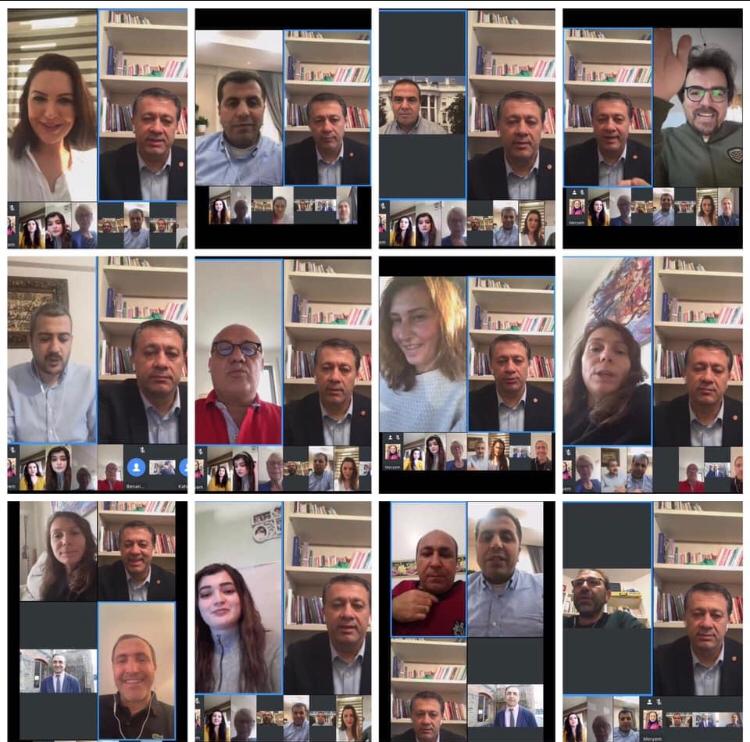 Global Journalism Council who is international Professional Organization held a meeting with Turkey, Azerbaijan, the USA, Russia, Germany, UK, Belgium, Northern Cyprus Turkish Republic, Iran, Greece, Iraq, Bulgaria and other countries of representatives on video conferencing systems.
THE opening of the meeting was made by Elshad Eyvazli who is the President of Global Journalism Council Foreign Media Assembly .
Representatives discussed the impact of the coronavirus outbreak on countries, especially the media and various sectors.
The video conference was managed by Mehmet Ali Dim who is GJC President. Dim has given info about last situations in Turkey.
He said that the role of written media in Turkey, especially traditional local media has declined, but instead of this, digital publications stand out.
President Elshad Eyvazlı said that the media in Azerbaijan is in the same situation, newspapers are losing their importance, the number of reading websites is increasing, but that his country has taken more serious measures than other countries in the fight against coronavirus
GJC Washington Representative İrfan Sapmaz, a world-renowned war journalist from the USA, said that he came to the USA because he was tired of the war, but had to fight a new and different war, coronavirus.
Sapmaz said, "Unfortunately, the number of infected people in the United States is increasing rapidly every day. President Trump talks about the work done in the country to the press every day between 17-18 hours. But pro-Trump Republicans also want the quarantine to be lifted. The country's economy is seriously troubled.
8 million people are registered as unemployed but total we have 22 million unemployed. Trump is trying to boost the state budget as much as possible before the election. As for the media, some employees of a large media organization such as CNN were infected and quarantined at home. "There is a media organization with 1500 employees before the coronavirus, now 15-20 people are working."
Ekaterina Gündüz who participants from Russia, noting that the country of the virus more people to pay attention, "On the contrary, borders if they think they will go to Turkey to rest at an angle. So people are missing recreation and are worried about closed borders. "
Nahide Youmer, from Bulgaria, said that food aid was distributed to people in the country after all packages were disinfected.
Youmer said, "I present this to your attention because the Bulgarians, who held a church service two weeks ago without complying with social distance, are now paying attention even to the aid packages. The reason why the virus spread in the country in a short time was that the quarantine rules were not strictly enforced. The number of infected people now exceeds one thousand and the number of deaths is 50. It is true that these figures may appear small, but Bulgaria has only 5 million inhabitants and these figures are actually very dangerous for the country.
The condition of our media is also bad. "
Sefa Karahasan from Cyprus reported the number of infections in the country and said:
"As a result of the measures taken in Northern Cyprus, the number of infected people has declined sharply. The opening of some workplaces after 4th of May is discussed. We have a serious problem on political issues. A total of 40 thousand TL worth of aid was sent from the Greeks. Almost there are those who want to offer it as a big help. However, help is coming by plane from Turkey every day. They ignore this. When it comes to the state of our media, we are experiencing all over the world. "
GJC member of Hülya Özkoyuncu also gave information about the latest situation in Cyprus.
GJC Deputy Head of Social Media, the quarantine regime that makes it even more powerful heroes Halisçelik said and continued: "We all know the situation in Turkey. The quarantine regime is slowly beginning to soften. The press was also seriously damaged during the quarantine period. However, thanks to the initiatives of our leader Dim, the local media was partially supported. I hope that some difficulties will be solved in the coming period and the media will receive the necessary support. By staying at home, we realized how important social media really is. The fact that even heads of state spend an online conference at home shows how necessary and important social and digital media are. "
Yakup Aslan, who joined from Iran, reported that there is a mask shortage in Tehran and there is no alcohol for disinfection. Aslan said, "One of the most important concerns in Iran today is the number of people infected and killed. Because only the figures released from the official source report that this does not seem credible to us. It is true that the number of daily infected people has already begun to decrease, but I must say that the number of tests performed is very low. 1 million 750 thousand tests were carried out in the country, but the number of virus patients is about 340 thousand. Also, the month of Ramadan has started and life will continue to flow more slowly. People have a hard time finding a mask.
There isn't almost alcohol.. However, it is possible to find alcohol here through a familiar environment. The media is in a difficult situation, "he said.
Yeliz Hacıosmanoğlu, who joined from Belgium, said, "The situation in Belgium is getting better. The number of people who died in nursing homes is also included in the list of those who died from the virus, so the loss of the virus is sometimes too much. However, the quarantine regime is loosening, shopping malls are opening, and schools begin education on Friday after the decision. The media is in a difficult situation here and is asking for help from the state. "
Aynur Tattersal, founding member of the Council who attended from London, said, "I am currently following many issues related to personal development in people. We think that everything will change and will be different. But we do not realize that this process has already happened, and everything has changed completely. We are all talking about the economic situation and losses. But I want to say something instead of these losses. As a media representative, we always raise people's concerns.
But let's go back and see what has really changed in our lives. If we pay a little attention to this issue, we will also understand that we have a message. With the news we prepared, we can understand what kind of journalist we are before, what kind of journalist we are now.
Having too many positive jobs is inevitable ".
Giving information about the latest situation in UK, GJC London Representative Alpaslan Düven stated that there are extraordinary days in the country and said, "The British are suffering from taking the virus seriously. They can not even give a date for a return to normal. "
Deputy of GJC President İsmail Bayazıt commented on the change and future developments of the media during the pandemic process.
Benan Kepsutlu, GJC Foreign Media Assembly Vice President and Independent writer, also attended from Istanbul.
Explaining that she knew closely during the pandemic period – 4 people died, Kepsutlu said, "We have to take this process seriously. As media, we have responsibilities. Our responsibilities will continue after the end of this process. We need to manage not to be infected right now. "