GJC IS 2 YEARS OLD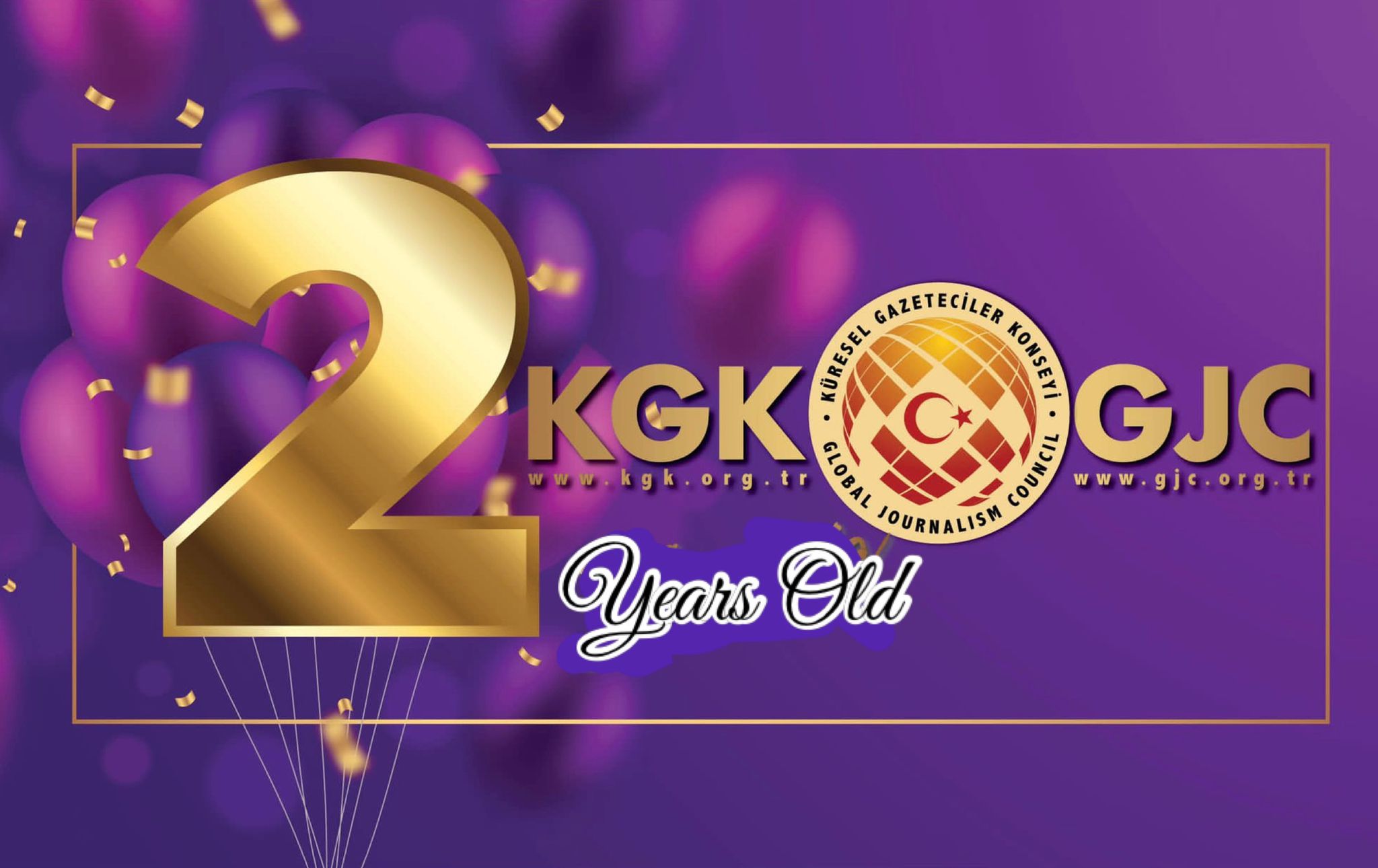 The Global Journalism Council (GJC), which has breathed new life into the professional organization of journalism in Turkey from a global perspective, is celebrating its 2nd anniversary of its foundation.
On October 14, 2019, a written statement was made on the anniversary of the foundation with the signature of Mehmet Ali Dim, the President of the GJC, which was established with the status of an international union.
The GJC is not just a professional organization. Establishes decommunal communication channels with the synergy obtained from professional and sectoral cooperation and solidarity. GJC has been aware of its mission since its inception and has focused on such activities and will continue to do so.
81 PROVINCES AND 45 COUNTRIES
Since our establishment, we have been moving forward with the aim of member formation, qualified representation and institutionalization all over Turkey and the world, and we have also signed up for professional and sectoral activities in accordance with our mission.
First, we opened a five-storey and multi-functional headquarters building in Ankara, and then the GJC office in Istanbul, which is the center of foreign media and widespread media, to serve our members and the industry. Turkish English and we have also offered the opportunity to apply for membership online from our website, which we have provided to the service.
We have appointed our representatives to 79 provinces of Turkey outside of Istanbul and Ankara and to 45 countries including USA, China, UK, Germany, France, Japan and Korea.
WE WELCOMED 176 RUSSIAN JOURNALISTS
We hosted the 21st World Russian Media Congress of the Russian Media Council on October 24-28, 2019. 176 Russian-speaking foreign journalists attended the congress in Ankara, attended by Turkish Vice President Fuat Oktay and made a speech. We have hosted Russian journalists in Ankara, Kayseri, Cappadocia, Konya and Alanya for 4 days.
GLOBAL MEDIA MAGAZINE
English January 2020, with the contribution and support of the GJC Family, we have established a written communication bridge with our industry and journalists with our Global Media / Global Media magazine exclusively on journalism (Turkish and English), which we have started publishing every 6 months.
OUR MEETINGS ABROAD
We have brought together our local and foreign members with journalists from these countries with the media meetings of Cyprus, Azerbaijan and Germany that we held before the pandemic. dec. In addition, we have visited media organizations and organizations in these countries and signed protocols to ensure that cooperation is sustainable. Turkish Foreign Minister Mevlut Cavusoglu also attended our meetings in Cyprus and Azerbaijan and made a speech.
COOPERATION WITH THE TURKISH COUNCIL
We are also striving to be more in solidarity with our colleagues in the Turkish states in high-level cooperation and solidarity with the Turkish Council, which was established to establish unity and togetherness in the Turkish geography.
Unfortunately, we had to postpone the media meetings we planned to hold in Jordan, Iran and Uzbekistan and the meetings we were going to hold in different cities of our country due to the pandemic.
OUR PAINFUL LOSSES
In this process, we have made efforts to support media organizations and media employees who have been victimized by the negative effects of the pandemic that we have lost nearly 40 colleagues to due to Covid19 in Turkey and to solve the problems. As a UPS Family, we have also experienced great pain. April November 2020, we lost our Malatya member Akif Çelik, then in April 2021, we sacrificed Veli Altinkaya, one of the fathers of our council's ideas, our founder and Vice President, to coronavirus disease. We again commemorate with mercy and prayer all our colleagues we lost on this occasion.
A BIG MEETING IN ALANYA
As Gjc Family, we gathered with all our elected boards in Alanya on July 2-4, 2021 at the first opportunity given by the pandemic, and signed important decisions. We also presented the Global Success Awards, which were given for the first time this year, to the owners in Alanya.
In the second year of our establishment, we would like to express once again that we will continue to fight with determination for the permanent solution of the sector's problems and the improvement of working conditions. Moreover, the problems of our country and the problems of our industry cannot be considered independent of each other. We are aware of the threats and perceptions that mean the economic structure of our country, the integrity of our homeland and the peace of our people, and we have a national stance on this issue.
SUPPORT FOR AZERBAIJAN
Like Turkey, Azerbaijan is also included in the sensitivity area of our council. After 44 days of Azerbaijan's patriotic war in Karabakh, which ended in victory, we have supported Azerbaijan's public diplomacy activities by taking delegations of foreign journalists to Karabakh 3 times in order to better explain Azerbaijan's rightness to the international community.
In addition, we provided educational support to the students of the Journalism department of Azerbaijan Baku State University with our project called "Media Volunteers-145". We have also been a stakeholder in many professional, cultural and historical events in Azerbaijan. We have been honored to be presented with a thank you plaque by the official and civil organizations of brotherly Azerbaijan many times.
OUR NEWS PROGRAM
As part of a joint project conducted with Turkey's rising news channel Haber Global, we have implemented a foreign policy-oriented Agenda program with the production, management and presentation of GJC Deputy Speaker of the Foreign Media Assembly Benan Kepsutlu. This program is being carried out with the participation of external representatives of GJC.
GLOBAL MEDIA ACADEMY
In accordance with the decision taken at the Alanya meeting, the Global Media Academy, which we founded and some universities are our stakeholders, will start training our young colleagues in Anatolia and Thrace after the programs that will start in Istanbul and Ankara as of Januaryi
WE ARE GRATEFUL
We would like to express our heartfelt gratitude to Turkish Foreign Minister Mevlut Cavusoglu, who has not withheld his support since our foundation, especially to all our members who have contributed to the work and future vision of our council, which has just completed its 2nd year.
CELEBRATIONS
GJC 2. the anniversary of the foundation was celebrated with events held separately in Ankara and Istanbul. A large number of our members and civil society executives attended the celebrations