Hüseyin Baraner's Azerbaijan impressions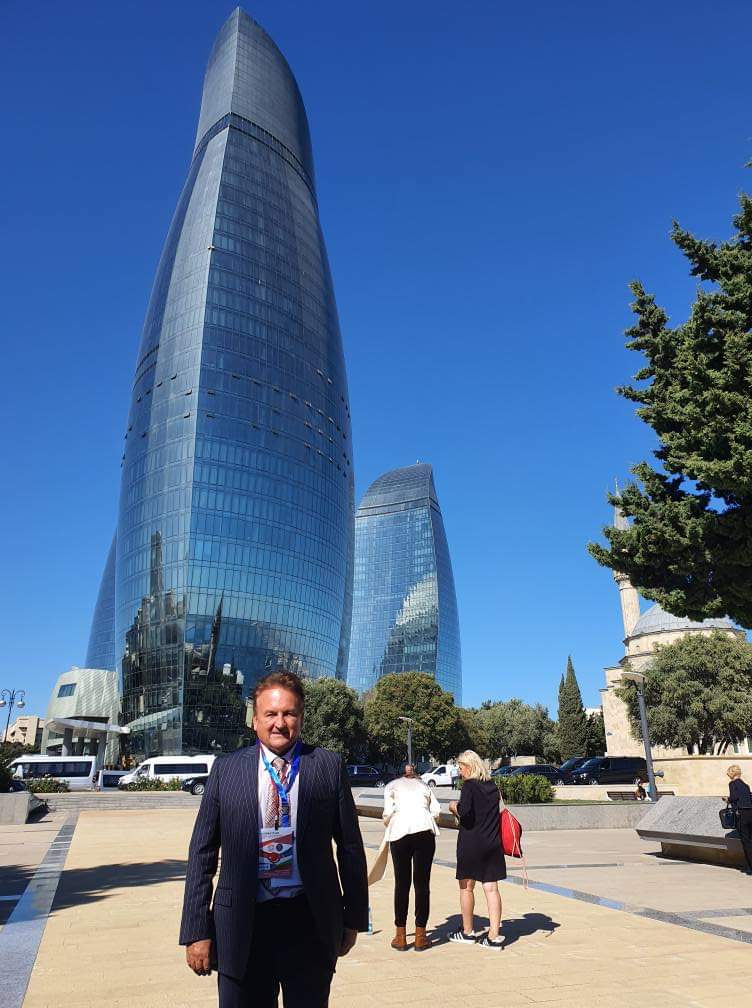 As a guest of the Global Journalism Council (GJC), I visited Baku last week with a large media team. I would like to mention that Baku literally breaks down all the taboos that you have established, and the city welcomes you with all its visual feasts, art, culture, people and civilization. Baku is a really beautiful city: a mix of Paris and Dubai, a neat city with very clean streets loaded with art and culture. They are competing with Singapore for city cleanliness. Also the people are so polite and helpful. For this reason, it receives a lot of tourists from Europe and other countries of the world. The growing population and visitors always take Baku one step ahead.
Obviously, it surprises its visitors in every sense. A mixture of art, cuisine and exceptional culture. The magnificent architecture is Baroque and Neoclassical. An amazing flawless blend of works from Turkish history and Soviet times.
Whatever it should be, they all welcome us flawlessly.
As you wander around, the city suddenly encapsulates you and imprisones your soul. Sculptures, painters and incredible culture breezes in an instant.
This is a city where every person can find something from themselves. People feel like you're in your second home here.
I would also like to mention that the world's largest poets city Baku!
We understand this by looking at history, the words of poets and couplets.
The wars and bad days of the time were committed to people and engraved in history.
One of his most famous poets is Nizami Gencevi. He wrote the story of Leyla and Mecnun. He's from Ganja.
Mother's love, homeland's love, son's love.
Here you live the beautiful blended culture of the East and the West. It feels like you're breathing in the city. It satisfies you with its rich food culture and various restaurants. You live there one by one.
I would also like to briefly mention,
Baku; It is the capital of Azerbaijan. Located on the shores of the Caspian Sea, this city is the largest and most important center of the country. Developed by industry and trade, Baku attracts tourists with its rich culture, almost the heart of Azerbaijan. It is also a port city on the west coast of the Caspian Sea.
According to recent research, the population of Baku city is over 2 million.
With the developing country economy, the city began to grow rapidly. When new and luxurious buildings, restaurants, shops and shopping malls are built, infrastructure problems are solved and Baku has become a more livable city and is on its way to becoming a metropolis.
Having a continental climate, Baku is cold, rainy and snowy in winter. The summer months are hot.
Baku is mostly a windy and rainy city. The name of the city even means "Badi Kube" winds city.
Azerbaijani is the official language of Azerbaijan.
Russian as a second language was important. 95% of the people living in the city are Muslims and the rest are Christians and Jews.
Azerbaijan is also a unitary semi-presidential republic. He is one of the six independent Turkish states and an active member of the Turkish Council and the TURKSOY community.
I would like to point out that most of the narratives may be incomplete, but when you create an opportunity and you are there, you will understand this.
Baku, the perfect combination of civilization and culture in the world, invites and invites you in love.
As you live you will understand the taste.