The GJC Istanbul Office is the meeting point for the global media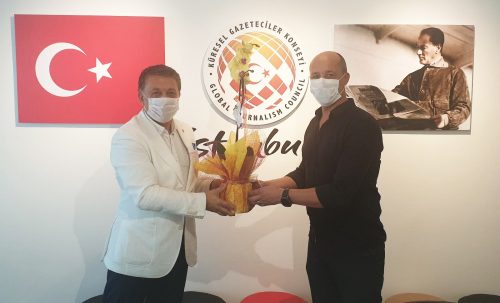 The office opened by the Global Journalism Council (GJC ) in Istanbul was flooded by local and foreign journalists from day one.
The office that went into operation in Cihangir, a 5-minute walk from Taksim Square, mainstream media and foreign media, welcomed journalists with the majority of GJC members under the pandemic conditions. The journalists, in whom GJC President Mehmet Ali Dim, Vice President Kahraman Halisçelik and Finance Vice President Gürsel Eser were very interested, were offered various delicacies. With praise for the office of GJC Istanbul, which with its indoor office and garden covers an area of ​​around 300 square meters, the journalists said: "With this office, a major deficiency has been eliminated. We were very excited to be in such a beautiful place and pleasant environment that brought us together and provided all kinds of services for free. We would like to thank the GJC management for this service. "
GJC Chairman Dim said, "Istanbul is the center of local and foreign media. This is the gateway to the Turkish media. Istanbul is the center of foreign media attention and its gateway to the Middle East. We have opened our doors to all journalists who work here without discrimination. Many of them became our members. The Foreign Media Association is also our partner. Association President Christian Feiland is here as our member and takes part in all of our events. Thank you for your contribution and support. We are proud to have opened a pleasant office in Istanbul after our functional headquarters in Ankara. I would like to express my sincere thanks to our Board of Directors, to all of our members and to all the people and institutions who support them. "
The GJC office in Istanbul looks after journalists every day except Sundays between 10 a.m. and 6 p.m. In the office, where all technical communication options are available, tea, coffee, non-alcoholic cold drinks and food such as toast and sandwiches are served free of charge.